Things To Do Together
CRAFT: EATEN BY THE FISH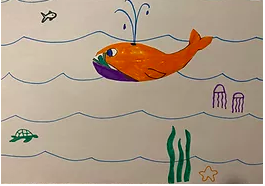 What you'll need:
Fish and Jonah shapes cut out of paper
Markers/crayons
Construction paper background
Glue sticks
Scissors
​
Have your children decorate their construction paper background with an underwater theme and then they can paste their fish and their Jonah onto it. They can put their Jonah where they want - in its mouth, about to be eaten, or even in its tummy. 
PRAYER
​
Dear God, you call us and send us out into the world to tell people of your love and of your forgiveness. Give us courage and wisdom to do what you ask us to do, and help us remember that you always forgive us, as well. Amen.
BLESSING
Make the sign of the cross on one another's forehead, look each other in the eye and say, "You are loved and forgiven - always."