Things to do together
Craft: Puppy Puppet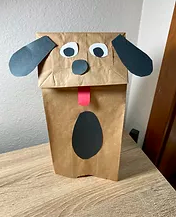 What you'll need:
Paper bags
Glue sticks
Construction paper for dog features, cut out ahead of time if your kids are little
Many of us have found deep relationships and unconditional love with a pet. Take some time to build a paper bag pet, share your favorite animal stories, and thank God for the gift of animals.
If your kids are little, you can cut out the ears, eyes, nose, tongue, and spot for each child's dog, otherwise they can cut them out themselves. For features that come in pairs, fold the paper over so the two come out the same size and shape. Have them glue each feature on their paper bag to make the puppet.